Morning "Street Food" Tour
"Taste the Local Foods with the Local Chef"
Prices: $49 per person or 1,130,000 VND per person
The Tour Includes
*** Pickup and return from Hotel by car (within Hoi An area)
*** Guided walk through the local market, food producers and vendors
*** English speaking Chef – Guide
*** Tasting around 20 different famous local foods and beverages
*** Complimentary non-alcoholic drinks
*** A visit to the Organic Vegetable Village
*** Foot massage with local masseuse at our tasting place
*** Hands-on making one local dish
*** Recipes of dishes that we think you can make it at home
*** We share Hoi An's Food Secrets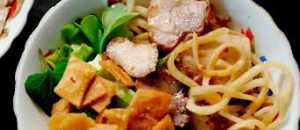 Tour Description
The tour gives you a safe opportunity to try Hoi An's most famous dishes. And we ensure the food is hygienically handled and provide comfortable venue for the tastings.
Our tour enables an opportunity for you to discover the Local Food Secrets under the assistance of the Local Chef who passionate in maintaining the local gastronomy and who are eager to share the Local Recipes with you. Also, it enables an opportunity for you to try your hands at cooking one of Hoi An's most famous dishes.
Hoi An is not far from Vietnam's former Capital where the Nguyen Kings reigned the country between 1802-1945. Therefore, foods of Hoi An is deeply influenced by the gastronomy which once served the royal family. For instance, foods that served the Kings must be complex, delicious in taste while luxurious in texture, and appearance.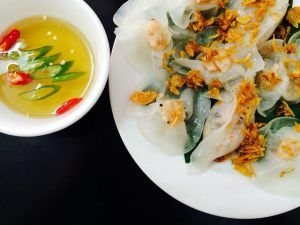 Our tour is in four parts:
Firstly, we walk you through the local traditional market and streets meeting the producers and tasting their food.
Secondly,  we stop at the one of the tasting places, you sample more food which brought in from outside our tour route.
Thirdly, we invite you to another tasting place which is located in the Organic Vegetable Village to have relaxing foot massage which is a health treatment with traditional medicinal herbs with the local masseuse.
Finally, you learn how to make one of the most famous dishes of Hoi An at this place and sample more food which are made by your Chef.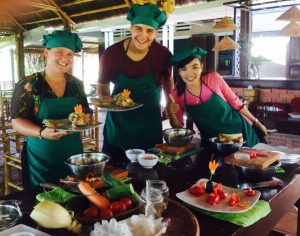 You learn:
The names and meanings of different local foods
The main ingredients
How and when these foods should be eaten:
The package tour excludes:
Insurance and other personal expenses
TOUR TIME:
WE ARE TEMPORARILY CLOSED DUE TO COVID-19
WHAT TO BRING:
Comfortable walking shoes and Sun protection
Camera
Hat (traditional conical hats are available on the tour for you to try)
WHY CHOOSE OUR TOUR?
We have been conducting a Cooking Class which commits to maintain the local recipes and which is highly recommended on TripAdvisor. Our Chef – Your Guide is good at making local dishes and love to share local food secrets.
We are the First Food Tour in Hoi An that offers hands-on cooking experience in which you make one of the famous local dishes by yourself
Our foods is highly recommended on TripAdvisor
Our tour is conducted by a local Chef. And we are maintaining local Culture and its Gastronomy
Q1. How many people on the tour? Maximum 6 participants on the tour (except private group/family). And our tour requires at least 2 persons per booking
Q2. Can children join the tour? Children must be 11 years or older (except private family/group tour)
Q3. Is the tour conducted in other languages? The tour is only conducted in English.
Q4. Can vegetarians join the tour? Most local dishes are meat related so vegetarians are not recommended to join the tour.
If you have a Food Allergy please advise us prior to your tour.
Q5. Are private tours available for family or group? Yes, private tours are available. If you book well in advance there is a good chance that we can accommodate your needs. To inquire about a private tour, please email: hoianvillagetravel@gmail.com. We will respond within 24 hours letting you know if the date is available and other details.
Q6. What do we expect on the tour? During the walking part of the tour, tastings will be served both standing and sitting in eating places which are usually catering to only the local Hoi An people. During this part of the tour we walk down to busy streets experiencing the sounds, sights, smells and all activities of the local people's daily life. In the second part of the tour you will be seated in our tasting place to enjoy relaxing foot massage before sampling food which brought in from vendors outside our walking tour route. Then you will learn how to make one of the famous local dishes.
Q7. How many dishes will we try? More than 20 tastings are offered over the five hour tour and you don't really need breakfast before the tour starts.
Q8. Is there any dress code for the tour? Just dress casual, wear comfortable walking shoes, bring sunscreen. Traditional conical hats are available for you to try during the tour or you can bring your own hat.
Q9. Is the tour available on rainy days? Our tour is still open on the rainy days. Raincoats are available if it rains, however you should dress appropriately accordance to the forecast weather conditions.
Q10. How far do we have to walk? The total tour distance is less than 1 kilometer (0.5 mile).
Q11. Are there any bathrooms available during the tour? Yes, there are.
Q12. Does the price include gratuities? No, it doesn't. Although not expected, gratuities are really appreciated.
Four Step Booking Procedure:
1. Email your booking inquiry including preferred tour date to: traquegarden@gmail.com or fill out the form in Contact Us tab.
2. We will respond, emailing you all details of our tour including availability, pricing plus information we require.
3. If all details are acceptable to you, just email your approval with the required information.
4. We will then email our confirmation with all booking details.
***Please note: no deposit is required.
We don't have credit card facilities. We hope you don't mind doing the payment in cash (either VND or USD) at the end of the tour.
Tra Que Garden 
Address: Tổ 16, Thôn Bến Trễ, Xã Cẩm Hà, Thành Phố Hội An, Tỉnh Quảng Nam, Việt Nam. Telephone: +84.902.866.603//+84.934.861.007
Prices: $49 per person or 1,130,000 VND per person

The Tour Includes

*** Pickup and return from Hotel by car (within Hoi An area)
*** Guided walk through the local market, food producers and vendors
*** English speaking Chef – Guide
*** Tasting around 20 different famous local foods and beverages
*** Complimentary non-alcoholic drinks
*** A visit to the Organic Vegetable Village
*** Foot massage with local masseuse at our tasting place
*** Hands-on making one local dish
*** Recipes of dishes that we think you can make it at home
*** We share Hoi An's Food Secrets

Tour Description

The tour gives you a safe opportunity to try Hoi An's most famous dishes. And we ensure the food is hygienically handled and provide comfortable venue for the tastings.
Our tour enables an opportunity for you to discover the Local Food Secrets under the assistance of the Local Chef who passionate in maintaining the local gastronomy and who are eager to share the Local Recipes with you. Also, it enables an opportunity for you to try your hands at cooking one of Hoi An's most famous dishes.
Hoi An is not far from Vietnam's former Capital where the Nguyen Kings reigned the country between 1802-1945. Therefore, foods of Hoi An is deeply influenced by the gastronomy which once served the royal family. For instance, foods that served the Kings must be complex, delicious in taste while luxurious in texture, and appearance.

Our tour is in four parts:

Firstly, we walk you through the local traditional market and streets meeting the producers and tasting their food.
Secondly,  we stop at the one of the tasting places, you sample more food which brought in from outside our tour route.
Thirdly, we invite you to another tasting place which is located in the Organic Vegetable Village to have relaxing foot massage which is a health treatment with traditional medicinal herbs with the local masseuse.
Finally, you learn how to make one of the most famous dishes of Hoi An at this place and sample more food which are made by your Chef.

You learn:

The names and meanings of different local foods
The main ingredients
How and when these foods should be eaten:

The package tour excludes:

Insurance and other personal expenses

TOUR TIME:

WE ARE TEMPORARILY CLOSED DUE TO COVID-19

WHAT TO BRING:

Comfortable walking shoes and Sun protection
Camera
Hat (traditional conical hats are available on the tour for you to try)

WHY CHOOSE OUR TOUR?

We have been conducting a Cooking Class which commits to maintain the local recipes and which is highly recommended on TripAdvisor. Our Chef – Your Guide is good at making local dishes and love to share local food secrets.

We are the First Food Tour in Hoi An that offers hands-on cooking experience in which you make one of the famous local dishes by yourself
Our foods is highly recommended on TripAdvisor
Our tour is conducted by a local Chef. And we are maintaining local Culture and its Gastronomy

Q1. How many people on the tour? Maximum 6 participants on the tour (except private group/family). And our tour requires at least 2 persons per booking

Q2. Can children join the tour? Children must be 11 years or older (except private family/group tour)

Q3. Is the tour conducted in other languages? The tour is only conducted in English.

Q4. Can vegetarians join the tour? Most local dishes are meat related so vegetarians are not recommended to join the tour.

If you have a Food Allergy please advise us prior to your tour.

Q5. Are private tours available for family or group? Yes, private tours are available. If you book well in advance there is a good chance that we can accommodate your needs. To inquire about a private tour, please email: hoianvillagetravel@gmail.com. We will respond within 24 hours letting you know if the date is available and other details.

Q6. What do we expect on the tour? During the walking part of the tour, tastings will be served both standing and sitting in eating places which are usually catering to only the local Hoi An people. During this part of the tour we walk down to busy streets experiencing the sounds, sights, smells and all activities of the local people's daily life. In the second part of the tour you will be seated in our tasting place to enjoy relaxing foot massage before sampling food which brought in from vendors outside our walking tour route. Then you will learn how to make one of the famous local dishes.

Q7. How many dishes will we try? More than 20 tastings are offered over the five hour tour and you don't really need breakfast before the tour starts.

Q8. Is there any dress code for the tour? Just dress casual, wear comfortable walking shoes, bring sunscreen. Traditional conical hats are available for you to try during the tour or you can bring your own hat.

Q9. Is the tour available on rainy days? Our tour is still open on the rainy days. Raincoats are available if it rains, however you should dress appropriately accordance to the forecast weather conditions.

Q10. How far do we have to walk? The total tour distance is less than 1 kilometer (0.5 mile).

Q11. Are there any bathrooms available during the tour? Yes, there are.

Q12. Does the price include gratuities? No, it doesn't. Although not expected, gratuities are really appreciated.

Four Step Booking Procedure:

1. Email your booking inquiry including preferred tour date to: traquegarden@gmail.com or fill out the form in Contact Us tab.

2. We will respond, emailing you all details of our tour including availability, pricing plus information we require.

3. If all details are acceptable to you, just email your approval with the required information.

4. We will then email our confirmation with all booking details.

***Please note: no deposit is required.

We don't have credit card facilities. We hope you don't mind doing the payment in cash (either VND or USD) at the end of the tour.

Tra Que Garden 

Address: Tổ 16, Thôn Bến Trễ, Xã Cẩm Hà, Thành Phố Hội An, Tỉnh Quảng Nam, Việt Nam. Telephone: +84.902.866.603//+84.934.861.007